Children of austerity
Published:
13 April, 2017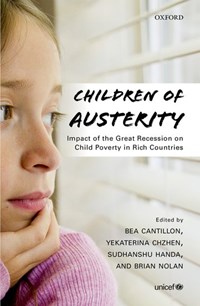 Nearly ten years after the first financial chock Waves rippled through the world economy, generating a global recenssion, the track record of high income countries in protecting Children from its worst effects, is mixed. A new book published by UNICEF, provides a detailed account of the effects of the crisis, and government policy responses to it, on Children in high income countries. The study of the situation in Sweden is made by Carina Mood och Jan O. Jonsson.
The book combines a comparative perspective across 41 OECD and EU countries with 11 in-depth country case studies focusing on Belgium, Germany, Greece, Hungary, Ireland, Italy, Japan, Spain, Sweden, the United Kingdom and the United States. 
In-depth analysis of the wide-ranging experiences provides valuable lessons about protecting children during economic crises, since the selected countries cover the whole spectrum in terms of their circumstances prior to the crisis, the severity of the crisis' impact within their borders, and their national policy responses.
Key findings:
The recent economic crisis and subsequent austerity hit children particularly hard -  Between 2008 and 2014, child poverty increased in two-thirds of European countries; with increases of over 15 percentage points in Cyprus, Iceland and Greece and of 7-9 percentage points in Hungary, Italy, Ireland and Spain.
Spending on families and children in Europe fell when it was most needed – Not a single European country increased the share of spending on family benefits and two-thirds reduced per capita spending, while spending on pension benefits increased across the board between 2010 and 2013.
Cuts in spending on health, education and other public services hurt families with children – Income poverty statistics mask other forms of hardship. The rates of 'unmet medical need' rose significantly among the poorest households in Greece and significant cuts in health and education spending affected children in Spain.
The crisis and austerity highlighted stark regional disparities – 'Anchored' child poverty increased to 20 per cent in northern Italy and to 50 per cent in southern Italy between 2008 and 2014; in the UK, Northern Ireland's child poverty rate increased from 23 per cent to 27 per cent, while decreasing 2-4 points in Scotland, England and Wales.
Child poverty in the United States did not increase as much as expected - While unemployment nearly doubled, there was only a marginal increase in 'anchored' child poverty in the US. An expansion in the generosity and coverage of the social safety net during the crisis cushioned its impact on families with Children.
"The book's message is that to protect children in good times and in bad, governments should prioritize a combination of universal income support that is social insurance-based and means-tested, with health and education spending, directed towards those in greatest need", says UNICEF's Yekaterina Chzhen, co-editor of the volume. 
Children of Austerity. Impact of the Great Recession on Child Poverty in Rich Countries is published by Oxford University Press.
Do you wish to know more about the report and the analysis of Sweden, get in touch with the authors Carina Mood (carina.mood@iffs.se) or Jan O. Jonsson (janne.jonsson@nuffield.ox.ac.uk).