Date: 5 May 2017
Time: 08:30–10:00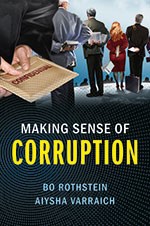 Corruption is a serious threat to prosperity, democracy and well-being, with mounting empirical evidence highlighting it detrimental effects on society. Yet defining this threat has resulted in profound disagreement, which makes it difficult to come to terms with the problem.
In the new book Making Sense of Corruption the authors Bo Rothstein and Aiysha Varraich describe how our understanding of corruption has evolved over time. They also argue for a possibility of a universal understanding of corruption, and specifically what corruption is not, presenting an innovative solution to the definition problem.
Welcome to a breakfast seminar where Bo Rothstein, Professor of Government and Public Policy at Oxford University will present the book.
Comments by:
Inga-Britt Ahlenius, former Auditor General of the Swedish National Audit Office and Under-Secretary-General for the United Nations Office of Internal Oversight Services
Gissur Erlingsson, Associate Professor at the Department for Studies of Social Change and Culture, Linköping University.
Moderator is Gustaf Arrhenius, Director at the Institute for Futures Studies.
Time: Friday the 5th of May at 08:30–10:00, with coffee and sandwich from 08:00.
Location: NEW! Mahognysalen på Citykonditoriet, Adolf Fredriks kyrkogata 10 (t-bana Hötorget uppgång Olof Palmes gata)
The seminar will be in Swedish.
The book will not be for sale at the seminar, but a flyer offering discount will be distributed.
Read more about the book at Cambridge University Press